Details
2022-01-25T00:00:00-05:00
2022-01-26T00:00:00-05:00
Contact
Carl Sandburg Home National Historic Site
18286934178
Information
January through April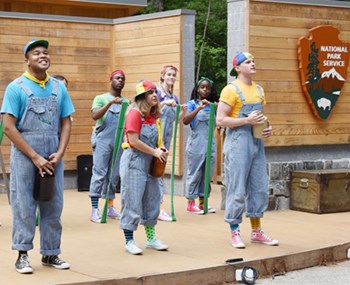 Actors portray characters from Carl Sandburg's Rootabaga Story "Three Boys with Jugs of Molasses and Secret Ambitions."
NPS Photo
Educators in grades 3-12 are invited to submit original poems written by their students in February. The poems will be judged and winners announced in April. Find the 2022 Poetry Contest Information and submission guidelines here. The theme "Ambition" is from one of Carl Sandburg's Rootabaga Stories, to celebrate it's 100th year of being published. "An ambition…creeps in your heart night and day, singing a little song, 'Come and find me, come and find me."
Students are invited to submit a poem to Carl Sandburg Home National Historic Site's annual Student Poetry Contest. The contest encourages youth to explore writing their own poetry, and is open to students nationwide!
Submissions are accepted from grades 3-12 and must be postmarked by March 1, 2022. See below for submission rules.
Winners will be notified by April 8, 2022, and will be invited to participate in a special virtual program on April 22.
---
2022 Contest Rules
Theme – "Ambition"
Carl Sandburg wrote millions of words reflecting on the American experience of the 20th century. Though his words often focused on war, labor, and social injustice, as a father of three, he also wrote imaginative, zany, and fantastical children's stories, called "Rootabaga Stories." Carl Sandburg's "Rootabaga Stories" were first published in 1922 and celebrate 100 years of entertaining readers of all ages this year. The theme "Ambition" is from one of these stories. "An ambition…creeps in your heart night and day, singing a little song, 'Come and find me, come and find me." Read the story here.
Poems submitted for the 2022 contest should reflect the theme of "Ambition." By definition, a strong desire to do or to achieve something, typically requiring determination and hard work. Or setting goals to achieve success.
Submission Rules
Poetry accepted from 3-12th grades only. Poems will be grouped for judging by 3-5th, 6-8th, and 9-12th.
Poems must be submitted by a teacher (traditional classroom or homeschool teacher).
No more than three poems per class. Teachers with multiple classes, can submit up to three poems per class period.
Poem will be judged on its ability to communicate the theme.
Poem can be written in any style, but must not exceed one-page in length. No illustrations.
Poems must be typed, no handwritten entries, using standard computer fonts, like Times, Arial, etc…
Do not place any identifying information (name, school, grade, etc…) on poem sheet, that will go on the accompanying submission form.
Submission form must be complete to be accepted:

Paperclipped to poem, no staples
Must be signed by parent, student and teacher
Submissions must be postmarked, faxed, or e-mailed to [email protected], by March 1, 2022. Emailed submissions must be docs, .pdfs or scans. Low resolution pictures of the submission will not be accepted.
Judging
Judges from the literary community will make the decision for 1st, 2nd, and 3rd place within each grade category (3-5th, 6-8th, 9-12th).
Poetry Partners
The 2022 Poetry Contest is a result of tremendous community support including the Friends of Carl Sandburg at Connemara, and literary volunteers who serve as judges. Thank you.
Poetry Resources
You may also find curriculum resources to use in the classroom at the park's website: www.nps.gov/carl/learn/education/index.htm.
Send Submissions to:
Carl Sandburg Home NHS
Attn: Poetry Contest
81 Carl Sandburg Lane
Flat Rock, North Carolina 28731
Fax 828-693-4179
Email: [email protected]