Events Calendar
Event Cancellations Due to Coronavirus
Several upcoming events have been canceled or postponed due to concerns about the new coronavirus (COVID-19). Events listed on this page may be outdated, so please visit the event website or contact the event organizer for the latest information.
Event organizers can contact us to update their event's information.
Explore family friendly events, theatres, galleries, concerts, nightlife, things to do, and more in the Greenville, SC and Upstate areas.
Friday, April 10, 2020
"Learn to Love the River" email series with River Link
From all of us here at RiverLink, we hope that you and your loved ones are staying safe and healthy during this difficult time. COVID-19 has greatly impacted all of our lives, and our education and volunteer programs are no exception. During this time of social distancing we are working on creative ways to continue to connect our community to the river we all love so much.
While we can no longer host lessons in the schools or volunteer service days, we're excited to share our weekly "Learn to Love the River" email series with you!
Each week we will send email(s) with:
Educational resources to learn about river ecosystems.
Fun river related activities to do with kids at home.
Inspirational poems, stories and videos about the river.
And more!
We know that this is a tough time for many people, and we hope that the river can provide some much needed hope and distraction from all the craziness in the world. Even though we're stuck at home, we're extremely grateful for our beautiful natural resources and the communities that help protect them.
#EarthMonth2020 #BackyardChallenge with SAHC
Keep it fun while following social (physical) distancing recommendations! Join us in taking the #BackyardChallenge to celebrate #EarthMonth2020 in your own backyard. How have you been enjoying time outdoors? Check out the gallery below to see ways SAHC staff have been getting fresh air while sticking close to home. Share your own and tag us on social media. #BackyardChallenge #EarthMonth2020 #MyAppalachia #SAHC
4-H at Home by South Carolina 4-H
Schools are closed, but that doesn't mean the learning has to stop. Join us for a daily 4-H activity sent via e-mail. Activities can be completed at home using common household materials. Some may require internet access. Topics include: Animals and Agriculture, Healthy Lifestyles, Civic Engagement and Leadership, Natural Resources, and STEM.
Ages: 5-18
Cost: Free
4-H Membership not required.
Although this opportunity is hosted by the Midlands Region of South Carolina 4-H, any youth, regardless of their location, may participate.
Share your daily photos using the hashtag #SC4HatHome for a chance to win a free 4-H Membership and prize pack. Prizes will be given weekly.
American Farmland Trust Farmer Relief Fund Application deadline: April 23, 2020
AFT's Farmer Relief Fund will award farmers with cash grants of up to $1,000 each to help them weather the current storm of market disruptions caused by the coronavirus crisis.
Initially, eligible applicants include any small and mid-size direct-market producers. These are defined as producers with annual gross revenue of between $10,000 and $1 million from sales at farmers markets and/or direct sales to restaurants, caterers, schools, stores, or makers who use farm products as inputs.
The application (linked to below in both English and Spanish) is simple and easy to complete but includes sufficient detail to ensure AFT is awarding producers that have the greatest needs. Applicants will be asked to estimate their financial loss.
AFT envisions an initial application round extending until April 23, with grants beginning to be made by May 1.
https://farmland.org/farmer-relief-fund/?eType=EmailBlastContent&eId=637ece80-2dc9-49d1-9afb-6b97c772e470&utm_source=newsletter&utm_medium=email&utm_content=Apply%20Here&utm_campaign=March%202020%20Newsletter
Brevard Music Center Announces Cancellation of 2020 Summer Season
BMC Supports Critical Efforts to Stem the Spread of COVID-19 
by Cancelling Summer Institute & Festival
April 4, 2020 (Brevard, NC)—After careful analysis of the continued global, regional, and local impact of the Coronavirus, the Trustees of the Brevard Music Center have unanimously voted to cancel its renowned Summer Music Festival, which had been scheduled for May 30 – August 22, 2020. The Brevard Music Center, one of the country's premier training programs for young musicians, is also cancelling all educational programming during the summer of 2020.
BMC made the difficult decision to cancel its 2020 summer institute and festival in order to remain compliant with current health advisories, civil ordinances, and government guidelines to help stop the spread of COVID-19. "We have an ethical obligation to do our part to protect our Brevard community," said Weinstein. "The very nature of BMC's operational business model is based on bringing students from almost every state in the country and from around the world to our campus and our community to participate in a transformative summer of study and performance. We also employ hundreds of seasonal staff and interns, distinguished faculty members, and world-class guest artists for a summer festival that welcomes 40,000 attendees. Mass gatherings of all of these individuals, plus hundreds of BMCA volunteers, could advance the spread of the virus…and that is a risk that we simply cannot take."
In the immediate days and following weeks ahead, the Brevard Music Center staff will proactively contact all 2020 ticket holders to offer a full refund on their purchase. BMC ticket holders will also be given the option to donate the full or partial value of their tickets to the Brevard Music Center as a charitable contribution. Ticket buyers may visit brevardmusic.org or call 828-862-2130 for further details.
For more information on BMC, visit brevardmusic.org, call 828-862-2100, "like" the Brevard Music Center on Facebook, follow @brevardmusic on Twitter, stream season highlights via SoundCloud, and visit the Brevard Music Center YouTube channel for performance videos from previous festival seasons.
COVID-19 Relief Funds Available to Farmers
COVID-19 Relief Funds

Available to Farmers

starting April 3rd

is part of the massive economic rescue package passed by Congress last week to address urgent needs created by the COVID-19 pandemic. Incorporated businesses, sole proprietors, single-member LLCs, self-employed individuals, and nonprofits are all eligible to apply for this relief.

Organic Growers School
Dolly Parton Storytime Series Virtual
Books from the Imagination Library will continue to go out as scheduled. A special new program, Goodnight with Dolly, is a 10-week series of Dolly read-aloud videos where the Book Lady herself will read one Imagination Library bedtime story each week. The series launched on April 2, and we hope this gift will further inspire a love of books and shared storytime during this important period.
E-learning with The Spartanburg Science Center
We have compiled a growing list of online resources to give educators, caregivers, students and parents the tools they need to succeed at home in STEM education.
Employment and Workforce COVID-19 South Carolina Government Information
https://dew.sc.gov/covid-hub
Due to the influx of unemployment claims being filed, the national system known as ICON hub, which all states use to validate social security numbers on claims in real time, is being overwhelmed with validation requests. We are required to validate social security numbers to avoid fraud and prevent identity theft. The ICON hub team is aware of this unusual issue and is working to expand their database capacity.  
In South Carolina, we are getting two different Social Security related questions:
First: The social security number field keeps you from filing a claim and states that the number is invalid and will not let you proceed to the next screen.
If you are getting this message, that is the validation delay mentioned above. We are asking folks to try to apply during an off-peak time. The validation of the social security number is done in REAL time, so that means as you are attempting to file, there are A LOT of people nationwide doing the same exact thing. We understand this has been an issue for a lot of people and as we get more information on progress, we will communicate that out.
Second: Once you have filed a claim, received a confirmation number and returned to the portal, your dashboard may show a pending Social Security Number Validation issue or a pending Separation issue.
These issues will be handled by our agency staff. No action is needed on your end. And if additional information is needed, a representative will contact you directly. There is no need to speak to an agent regarding these issues.
EPA RESPONSE TO CORONAVIRUS (COVID-19).

EPA's Coronavirus website provides key EPA resources and links to additional information about the coronavirus disease (COVID-19). Read the most up-to-date information about EPA actions, disinfectants, drinking water and waste water, and other resources.
https://www.epa.gov/coronavirus

Disinfectants that meet EPA's criteria for use against coronavirus (SARS-CoV-2). When purchasing a disinfectant product, check if its EPA registration number is included on this list. If it is, you have a match and the product can be used against SARS-CoV-2.

Information on drinking water and wastewater. The COVID-19 virus has not been detected in drinking-water supplies. Based on current evidence, the risk to water supplies is low.

Resources related to COVID-19 in other languages:
Fantastic Fungi Film Sofa Cinema Grail Moviehouse
As we enter into an even vaster understanding of just how interdependent we are and how fast something travels between us all, we can appreciate the power of our interconnectedness. This can be seen in the thousands of cases in which a virus has impacted so much of our lives from travel, business, wellness and gatherings.
Fantastic Fungi is all about our interconnectedness and the common issues that we face as a species. We know that our biggest defense from these viruses is our own sense of wellbeing, our own immunity and the ability to live from a place of health and wellness both individually and collectively.
Fantastic Fungi Day:
More Global Than Ever
Watch Fantastic Fungi… At Home!
The messages of this film could not be any timelier, from the need to reconnect and understand the intelligence of nature, to partnering with fungi and our natural world to shift our consciousness. How prepared are we to face the pressing issues we have in our world?
We are facing a serious challenge, yet like the mycelium network we are adaptable. As a response to the worldwide pandemic of the coronavirus, we ask each community to take responsibility for establishing the best practice for them. We also know that we need to respond as mycelium and provide innovative ways of addressing these new challenges.
Join Us From The Safety of Wherever You Are.
In response to the Coronavirus we have decided to expand our reach and open the gates to the ever expanding movement of this film and provide an opportunity to people all around the world, no matter where you are located, to participate in Fantastic Fungi Day! Yes, we are creating an opportunity for everyone, wherever you are to view the film as well as tune into the post-screening Q&A. We have the ability to shift the way we are living in this world. Now is the time to tap into nature's intelligence and come together as a worldwide audience seeking connection, hope and solutions.
With love and gratitude,
Louie, Paul and the FF Team
Fine Art Virtual Exhibit: Crista Matteson "Kindred"
Bender Gallery is pleased to announce Kindred, an exhibition for Seattle based mixed media artist Crista Matteson beginning on Friday April 3. Of course, we would have much preferred to have an in-person exhibition for Matteson at the gallery but we still feel very privileged to bring such beauty to our clients and followers at a time when we need it the most.

Matteson's latest series Kindred stems from her observations and research into the connectedness of all living things as increased urbanization impacts the local ecosystem of her beloved Pacific Northwest. This theme of interconnectedness could not be more applicable to today, as a pandemic spreads the globe and people all over the world are going through the same experiences.
Get Free Books from Dolly Parton's Imagination Library
Grandfather Mountain CLOSED to all activity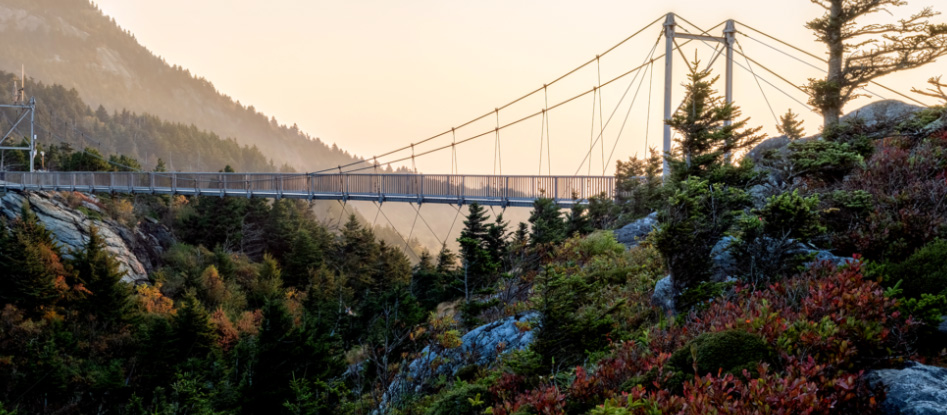 To help prevent the spread of COVID-19 (novel coronavirus), Grandfather Mountain will close until further notice, effective Sunday, March 15. The closure means the park will prohibit public access, including from the main entrance gate and hiking trails.
In addition, all special events and programs scheduled through Memorial Day have been canceled or postponed.
Greenpeace Action Calls Online Activism
Last night, over 350 people joined our volunteer call "Activism in a Disrupted World". That's one of the biggest volunteer calls we have seen in a long time — showing how many of us need community and action right now.  We spoke about the challenge, opportunity, and choice we're facing right now and what's next for the Greenpeace volunteer community.  I know for me, between the sense of community I felt and the opportunity to take action — that was something I really needed last night.
These are unprecedented times. The legislation being passed right now and the effects COVID-19 will have on our communities will permanently change our world. It feels like there is so much happening that we can't control — but we can still create change and protect so much of what's important. In fact, it's often in times of disruption that what was once impossible becomes possible. Now more than ever, we need to be coming together (virtually) and taking action.
That is why we are launching a series of Greenpeace Action Calls. We want to make sure you have what you need to continue your activism — even from home. So we'll be holding volunteer calls, trainings, and actions every week for you to join. We're starting with Take Action Tuesday — a place to come together, learn together, and take action together.
Sign up today and get updates on calls like Take Action Tuesday!
WHAT: Get updates on Greenpeace's Volunteer Action Calls
WHEN: The first call is on Tuesday, March 31 — then other calls throughout the month of April
WHERE: Join from home — from your computer or phone!
HOW: Sign up for alerts and to see the call calendar!
Take Action Tuesdays is a virtual volunteer call where we will take action collectively (and remotely) while also connecting and supporting one another during this time. It is critical that we support one another and continue the fight for a more just and livable future. Next week we will hear from campaigners about where we are with Congress and the unprecedented legislation that is on the table. We'll learn how to make an effective call to congress and then try it out together — and debrief how it went. If you are looking for ways to take action right now — or just to see a few more faces in your day — this is the call for you.
By signing up for these calls, you will be connected with a community committed to building each other up and taking action during this time. We'll update you on when calls are happening and ways to continue to take action. RSVP for next week's calls today.
Greenville Bar Crawl: Go All Out in Greenville
Prepare for a night out like never before with a Greenville Bar Hunt! Let's Roam is putting a new spin on the old bar crawl.
The Let's Roam Greenville Bar Hunt is a fun activity for small groups, team builders, date night or even a birthday or bachelorette party. Whether you're a local or just visiting, this is the best way to explore the hottest spots in town. Complete exciting photo and video challenges at the as you make your way through pubs, clubs, and dives to see who will be crowned the Bar Hunt Champion!
No reservations and no advance booking required. Must be 21 to participate.
Greenville Drive and United Way: Special Drive Tee for COVID-19 Relief Fund
Special Drive Tee for COVID-19 Relief Fund
As our community experiences the impact of COVID-19, the Greenville Drive is partnering with the United Way to help raise funds for our most vulnerable neighbors.
United Way is coordinating services with local nonprofits and community leaders to provide food, shelter and access to basic healthcare needs during this difficult time.
The Drive has designed a special t-shirt, encouraging everyone to stay home and stay healthy. The t-shirt costs $25 and $10 from each sale will go directly back to the United Way's COVID-19 Relief Fund for Greenville County.
Help support our community, Together We Win!
Support the United Way of Greenville County by purchasing this "Safe at Home" Tee Shirt!  We will donate $10 from each sale directly to the United Way COVID-19 Relief Fund to help support our neighbors during this difficult time.
Join Forces Virtually for the 50th Anniversary of Earth Day
WNC for the Planet is a proud supporter of Earth Day Network's effort to build the world's largest environmental movement to drive transformative change for people and planet. WNC for the Planet will  feature virtual opportunities for environmental education, advocacy and community events for people of all ages. Engagement opportunities will be offered across Western North Carolina well beyond the City of Asheville by Conserving Carolina, MountainTrue, Asheville GreenWorks and other organizations.
Join WNC for the Planet partners to celebrate the 50th anniversary of Earth Day! Those interested in learning more about virtual Earth Month opportunities can visit www.WNCforthePlanet.org.
Those involved include:
Asheville GreenWorks
Conserving Carolina
Friends of the Smokies
MountainTrue
RiverLink
Southern Appalachian Highlands Conservancy
Organic Growers School Videos: How to Grow Potatoes
Organic Growers School Videos: Seed Starting
Learn the best vegetables to direct seed and the best vegetables to transplant.