Details
2021-01-22T00:00:00-05:00
2021-01-23T00:00:00-05:00
Information
Around The Web
Live-streamed performances, resources, and activities we love from around the web, updated regularly.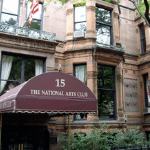 The National Arts Club: On Demand
Founded in 1898, The National Arts Club boasts more than 150 free programs to the public, including exhibitions, theatrical and musical performances, lectures, and readings. Current and archived videos are available and are updated weekly.