Events Calendar
Explore family friendly events, theatres, galleries, concerts, nightlife, things to do, and more in the Greenville, SC and Upstate areas.
Saturday, November 30, 2019
Christmas at Biltmore adds a touch of Downton Abbey
Known for its monumental scale of traditional holiday décor and dazzling lights, this year Biltmore's annual Christmas at Biltmore celebration will offer even more than ever before.
A yuletide feast for the senses, Christmas at Biltmore begins Nov. 1, 2019. One week later, on Nov. 8, the estate will welcome Downton Abbey: The Exhibition, an immersive experience that celebrates the global hit television series and new feature film.
Biltmore House aglow with five dozen Christmas trees
Biltmore House interiors will shine with the sparkle of more than 50 hand-decorated Christmas trees, ribbons and garlands measured by the mile, and thousands of lights. A majestic 35-foot Fraser fir in the Banquet Hall is the home's holiday centerpiece. For the first time, hand-decorated Christmas trees will be displayed on the balcony that wraps around the home's two-story Library.
Candlelight Christmas Evenings
During Candlelight Christmas Evenings, candlelight, firelight, and live music will create a magical environment that elevates seasonal celebrations inside Biltmore House. A 55-foot Norway Spruce on the home's front lawn lit with 55,000 lights will greet guests as they arrive to enter Biltmore House.
The warm welcome continues at Antler Hill Village & Winery with a constellation of holiday lights leading to the Winery and estate restaurants. A towering tree of lights will illuminate the Village Green, with a sea of lighted grapevine spheres nestled in the landscaping. Lights cascading from the trees that surround the bonfire area near Antler Hill Barn will offer a unique touch to the experience.
Downton Abbey: The Exhibition
Downton Abbey: The Exhibition will feature interactive elements that connect fans to their favorite characters, fashions, locations, and historic events of the era. Showcased in two estate locations, the exhibition pairs seamlessly with the real-life story of the Vanderbilt family at Biltmore. Amherst at Deerpark will host multimedia presentations and some of the series' most recognizable sets—including Mrs. Patmore's hectic kitchen and the gossip-fueled servants' quarters. At The Biltmore Legacy in Antler Hill Village, a gallery of more than 50 costumes from the series will be on view.
The exhibition will run through April 7, 2020. Access to Downton Abbey: The Exhibition is included with daytime admission, Candlelight Christmas Evenings admission, or an overnight stay that includes daytime admission.
Christmas at Biltmore 2019 Event Calendar
Christmas at Biltmore daytime experience – Nov. 1, 2019, through Jan. 5, 2020
Candlelight Christmas Evenings nighttime experience – Nov. 1, 2019, through Jan. 4, 2020 
Illumination of Antler Hill Village – Nov. 1, 2019, through Jan. 4, 2020, 5:30 p.m. to midnight
Downton Abbey: The Exhibition at Biltmore's Amherst and the Biltmore Legacy in Antler Hill Village – Nov. 8, 2019, through April 7, 2020
A Gardener's Place How-to Seminar: "Illuminated Holiday Tablescapes" – daily Nov. 1 through Dec. 31, 2019, at 1:30 p.m.
Conservatory's annual seasonal display – Nov. 1, 2019, through Jan. 5, 2020
Complimentary wine tasting at Biltmore Winery. Winery specialty tours available with additional price and reservations required – Nov. 1, 2019, through Jan. 5, 2020
Bonfires in Antler Hill Village with s'mores kits available for purchase at The Creamery – Nov. 1, 2019, through Jan. 3, 2020, select dates, 3 to 10 p.m.
Roving Holiday Carolers in Antler Hill Village – select dates
Candlelight Winery Tour with a look into the winemaking process and tasting with light cheese pairing. Additional price and reservations required.
Visits with Santa at the bandstand in Antler Hill Village – select dates
The Inn on Biltmore Estate's Annual Gingerbread House Tea – additional price and reservations required – Dec. 14 through 22, 2019, select dates, 1 to 3 p.m.
Festive holiday meals prepared by award-winning chefs served in all of the estate's restaurants – ongoing
SEC Women's Basketball Tournament Season Ticket Sale Now
Basketball Season is Back!
The SEC Women's Basketball Tournament returns to Bon Secours Wellness Arena for the second year in a row on March 4-8! Get uninterrupted action to all 13 games of the tournament and save by purchasing your reserved ticket book today! Tickets for the tournament are $120 for a reserved book.
All tickets prices are subject to additional taxes and fees.
Skating on the Square Spartanburg
Regular Hours

Monday – Thursday 3 – 8 pm
Friday 2 – 10
Saturday 11a – 10 pm
Sunday 12-8
Special Holiday Hours
December 20 – January 5th 11am – 10pm (excluding holiday hours listed below)
Thanksgiving Day 4-10 pm
Christmas Eve 12-8pm
Christmas Day 3 – 10 pm
New Years Eve 11am – 10 pm
New Years Day 2pm-10 pm
Martin Luther King Jr Day (Closing Day) 11a – 10p
The Asheville Marathon & Half at Biltmore Estate Sign Up Now
The Asheville Marathon began 8 years ago with only a marathon option, which sold out quickly in its first year, and again the next year. A nationwide interest in half marathons was becoming popular, so for the 3rd year a half marathon option was added.  In the 4th year, the event expanded to two days of races and a half marathon on each day.  To add a twist in the 5th year the Backyard to Vineyard Challenge was created, where participants race in the Saturday half and Sunday full. The challenge was very popular and for the 6th anniversary, Backyard to Backyard Challenge was added, where participants run both the Saturday half and the Sunday half. Now in its 8th year both days of races, including the challenges, are expected to be sold out, with 3,100 participants.
The Asheville Marathon & Half at Biltmore Estate is held on and run entirely on the grounds of the Biltmore Estate, where runners will wind through paved and packed dirt roads to see hardwood forest, meadows, gardens, and extraordinary views of the Biltmore House and Estate. This is the original Asheville Marathon and first race of its kind to come to Biltmore Estate in Asheville, North Carolina; don't miss out on being part of history at Biltmore Estate.
For more information about the Asheville Marathon & Half at Biltmore Estate, visit
https://ashevillemarathon.com/. Follow the race on Facebook, Twitter and Instagram.
The Station will be closed November 27th – December 1st
We will close at our normal time on Tuesday, November 25th at 5:30 p.m. and reopen Monday, December 2nd at 8:30 a.m. to celebrate Thanksgiving with our families.
https://www.facebook.com/events/366894774005991/?event_time_id=366895174005951
"Dressing for the Occasion: Mid-Century Sandburg as Celebrity and Family Man"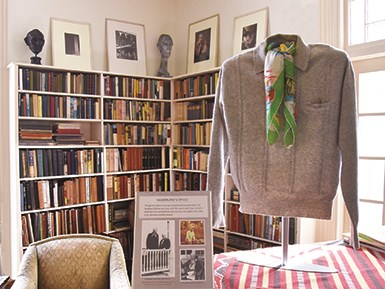 "Dressing for the Occasion" offers visitors a window into the style, culture, and feel of mid-century America. The family's clothing and accessories weave together the roles of Carl Sandburg as a prominent writer, celebrity, father, and husband. This temporary exhibit offers an exciting opportunity for the public to view objects that are normally in storage or in the possession of Sandburg family members. Tours of the Sandburg Home are offered daily from 9:30 am to 4:30 pm. Tickets are available first come, first served, each day from the visitor information area in the ground level of the Sandburg Home.
Nearly every room in the historically furnished house museum will be included in the exhibit. Visitors will see the characteristic scarves Carl Sandburg wore as he played his guitar and sang folk songs to entertain his family and guests, the dress Lilian Sandburg wore to meet President Lyndon B. Johnson, and many other mid-century pieces worn by the Sandburgs and their daughters. Historic photographs, paired with the clothing, will provide context.
A Charlie Brown Christmas
By Charles M. Schulz; Based on the Television Special by Bill Melendez and Lee Mendleson; Stage Adaptation by Eric Schaeffer by Special Arrangement with Arthur Whitelaw and Ruby Persson
The Peanuts gang is celebrating the season – writing letters to Santa Claus, hanging decorations, addressing cards – and everyone in town is excited about Christmas. Everyone, that is, except Charlie Brown. For Charlie, the commercialization of this special holiday has become too much to bear.
When he's named as the director of the annual Christmas play, he does his level best to bring the meaning of Christmas to the forefront, but meets with barriers at every turn. When it seems like all hope is lost, Charlie Brown is surprised to see the spirit of Christmas comes to life in his friends.
One of the most recognized and cherished stories of the Holiday season, A Charlie Brown Christmas reminds us all that there is only one true meaning of Christmas.
Most enjoyed by children, ages 3 and up.
African American Small Business Holiday Pop-Up Shop
Take care of your holiday shopping list with us at our Downtown Spartanburg Holiday Pop-Up Shop! Featuring local African American entrepreneurs and retailers offering a wide variety of gifts.  This unique holiday offering will connect downtown visitors with new gift-buying options while encouraging inclusion and equity in Downtown Spartanburg.
Christmas at Connemara Sandburg Home

Christmas at Connemara
Musicians and storytellers, crafts and sing-a-longs, hot cider and cookies. This free festive celebration will honor Carl Sandburg and his family holiday traditions. Young visitors will find many opportunities for participation in storytelling, sing-a-longs and crafts. The house will be decorated in the simple style of the Sandburgs with poinsettias and a traditionally decorated Christmas tree throughout December until January 6th, 2020.
Christmas Lionel Train Scavenger Hunt
Families love Model Trains Station's Christmas Lionel train display with scavenger hunts set to the theme of "Frozen" and "Rudolph the Red Nosed Reindeer". Get into the holiday spirit by visiting the snowy mountains near the North Pole or taking a peak at Charlie Brown's fictional town of Pinetree Corners. There are seven displays running 21 trains with interactive controls for little engineers. Model Trains Station located in Taylors Mill is a family Christmas adventure worth finding.
Fall Foliage Photography Contest
Capture photos of your friends and family members enjoying the vivid hues of fall and enter them into our photo contest. We'll use the winning entries on our website and Facebook album, and you'll win some fun prizes. Photos must be taken within the Chimney Rock section of the Park.
No additional costs to enter.
The first-place winner will receive an overnight getaway to Hickory Nut Gorge with a stay at the Historic 1927 Lake Lure Inn & Spa, two passes to the Park, brunch for two at the Historic 1927 Lake Lure Inn & Spa and two tickets for a tour with Lake Lure Boat Tours.
The contest's second-place winner will receive two passes to the Park, lunch for two at the Old Rock Cafe and two tickets for a tour with Lake Lure Boat Tours.
Chimney Rock's Facebook followers will select the People's Choice Award winner. Followers will have a week to like and share their favorite photo from an album of Winter Photo Contest entries posted on the Park's Facebook page at facebook.com/chimneyrockparknc. The People's Choice Award Winner will receive two passes to the Park, lunch for two at Old Rock Cafe and their photo will be featured on the Park's Facebook page.
Shutterbugs interested in capturing Mother Nature's wintry beauty can do so by entering Friday through Tuesday from 10 a.m. to 6 p.m. during the Park's winter hours.
All entries must be submitted to [email protected] or to the Parks' Facebook page through Facebook messenger.
https://www.facebook.com/events/354841472011965/?event_time_id=354841538678625
Indie Craft Parade Holiday Pop-Up Shop
A curated mix of handmade giftable art, home goods, jewelry, and children's items will be available for purchase. The Pop Up Shop makes it simple for Greenville to buy handmade for the holidays.
Kid Hop Hooray! Indoor Dance Party
Finally, on Saturday November 30th after Thanksgiving, we're excited that it's Kid Hop time again! Kid Hop Hooray (our awesome indoor family dance party that happens monthly all winter long) is back. This event is for kids of all ages, with family-appropriate music from DJ Oso! Drop in anytime – it goes from 10am til 1pm. There will be FREE Glow accessories for little dancers while they last, plenty of room to run, dance, and get their sillies out while it's cold outside, and snacks for purchase from Asheville Pizza Co and the Hop Ice Creamery, as well as popcorn and juice boxes! And of course, The Orange Peel bar will be open for mom and dad's refreshments.
Padded area available for crawlers and new walkers to play and explore.
Open Doors Artists Collective Art Exhibit
Pop Up: Greenville Wordsmiths
Join us Saturday, November 30th at 10:00am to learn about Greenville Wordsmiths, a nonprofit that encourages children 7-14 to develop skills in writing and literacy!
The Utley Collection of Brass Instruments
The exhibit features selected pieces from one of the world's finest collections of over 600 historic brass instruments from the Joe and Joella Utley Collection of Spartanburg, SC. In collaboration with the National Music Museum (NMM) in Vermillion, South Dakota, which will soon house the Utley Collection, Dr. Sabine Klaus, curator of the Utley Collection, worked closely with Tom Strange, Curator and Artistic Director of the Carolina Music Museum to prepare the exhibit.
Tuesday – Saturday 10-5 Sunday 1-5
2019 Holiday Craft Market
Local artists and fine craftspeople will fill the Chapman Cultural Center campus with their handmade items on Saturday, November 30th! It's the perfect time to come listen to some holiday music and grab those Holiday item, all while supporting local artisans. Whether you are looking for stocking stuffers and gifts for the people on your list or want to pick up something for yourself, we have hundreds of options to choose from.
This is a non-juried show. The more, the merrier!
Artist Application: https://forms.gle/18LcTPwi9eRNYSgV7
https://www.facebook.com/events/2486016198096943/
Celebrate Small Business and Small Press Saturday at Fiction Addiction!
On Saturday, November 30th, 2019, we celebrate small businesses like Fiction Addiction along with self-employed and small press authors! Self-published and small press authors will be signing books throughout the day. This event is free and open to the public.
We're proud to be a small business, and we are proud to support our community. When you shop at local small businesses, you help our community grow. Together, let's help strengthen our community by continuing to support the Shop Small initiative all year.
Our author signing schedule for Saturday, November 30th, is as follows:
11am-noon: Kate Salley Palmer, signing The Lady of Cofitachequi and 2020 Race to the White House
11am-noon: Edith Melson, signing Unruffled: Thriving in Chaos
---
12:15-1:15pm: Michael Havelin, signing Ben Bones and the Uncivil War
12:15-1:15pm: Robert Black, signing Fortune's Bond
12:15-1:15pm: James Heaton, signing A Long Drive to the Coast
---
1:30-2:30pm: Lee Lyons, signing Southern Shamrock
1:30-2:30pm: Stacey Brown Randall, signing Generating Business Referrals without Asking: A Simple Five Step Plan to a Referral Explosion
---
2:45-3:45pm: Christine Kindberg, signing The Means That Make Us Strangers
2:45-3:45pm: Emily Golus, signing Escape to Vindor
2:45-3:45pm: L. Chance Shiver, signing Oberlin's Anomaly
Drop in any time on Saturday, November 30th to support small business and small press authors!
Polk County toy run
https://www.facebook.com/events/2183777155281224/
United Community Bank Ice on Main
United Community Bank Ice on Main, located in the heart of downtown Greenville, is an open-air ice skating rink. Since 2011, more than 86,000 skaters and countless spectators have enjoyed Greenville's favorite holiday tradition.
Come out from November through January every year, to celebrate the holiday season with one of America's favorite winter traditions – ice skating!
Operating Hours
Monday – Thursday: 3 p.m. to 8 p.m.
Friday: 3 p.m. to 10 p.m.
Saturday: 11 a.m. to 10 p.m.
Sunday: 11 a.m. to 8 p.m.
School Break Hours
Saturday, December 21 – Sunday, January 5:
11 a.m. to 10 p.m.
Holiday Hours
Wednesday, Nov. 27: 11 a.m. to 10 p.m.
Thanksgiving Day, Thursday, Nov. 28: 4 p.m. to 10 p.m.
Friday, Nov. 29: 11 a.m. to 10 p.m.
Christmas Eve: 11 a.m. to 6 p.m.
Christmas Day: CLOSED
New Year's Eve: 11 a.m. to 10 p.m.
New Year's Day: 11 a.m. to 10 p.m.
Sunday, January 19: 11 a.m. to 10 p.m.
Martin Luther King Day/Closing Day: 11 a.m. to 8 p.m.